25Ku is a collection of mosaics with ceramic frames.
Each of them is a unique piece, entirely handmade.
Ceramic frames are 25 x 25 cm; some are raku ceramic (that's the reason of the collection name, 25Ku), and they've been made by the ceramic artist Daniela Isola.
The mosaics are little and precious creations of contemporary mosaic.
We cut our "tessere" (the pieces that create mosaic) by hand, with a hardy and a special hammer. We use various materials; the traditional ones are marbles and stones, the venetian smalti, a kind of opaque glass, and gold (a leaf of real gold between two layers of glass).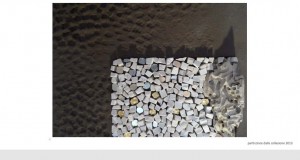 All about them in the dedicated page www.arabmosaico.it/en/collections-design-mosaico/25ku/